Email Marketing Software – Developed for Pakistan Supports Urdu Language
T-Mail is a brilliant idea of having all marketing tools in one place, versatile, robust and most of all very expandable. In short a smart web application for businesses. In fact, T-Mail is the only email Marketing Software  that has most of the sought after functionalities.
T-Mail is by far the only bulk email applications that makes it easy for users to create a beautiful newsletter or marketing campaign, thanks to its customized editor everything is within reach. You can add pre-made templates in a click of a finger, you can even add your own templates or html section as click and drop.
---
With its social icons & share, you can include your preferred social media networks easily.
T-Mail combines exclusive functionalities, which makes it easy to build your network in respect to your market segmentation. For instance, LinkedIn Vcards importer, you can import you LinkedIn contacts directly into T-Mail using Vcards formats, from there you can start your segmentation per group (Suppliers/ Leads/ Sales Managers and so on) using the merge option, furthermore. You can export your contacts to PDF Label formats, T-Mail support the following Avery formats: 5160-5161-5162-5163-5164-8600-L7163-3422.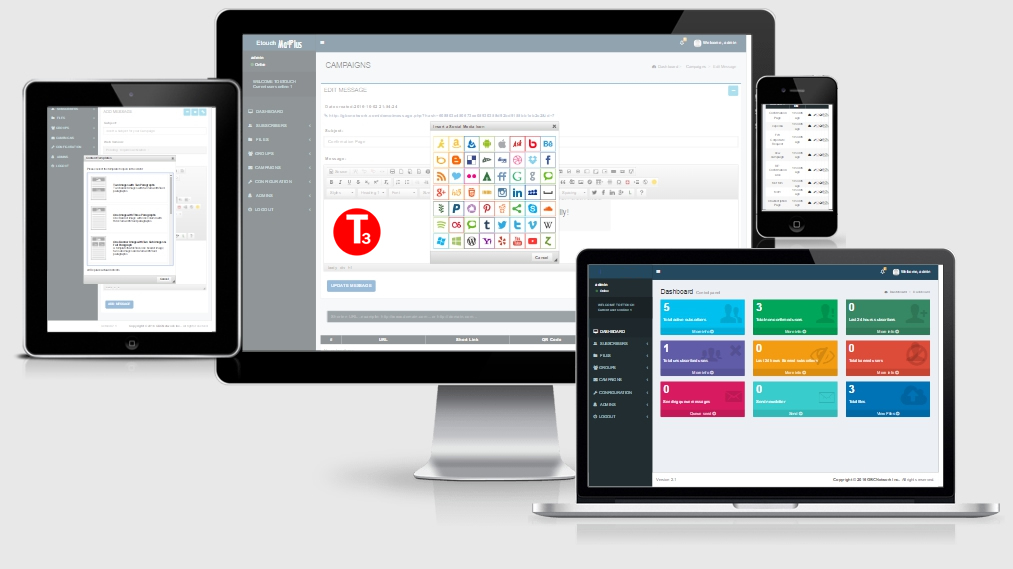 You can also use the drag and drop campaigns scheduler to send targeted emails on holidays or any social events. tracking your campaign got also easy, thank to both native email behavior tracking and URL shorter api integration, you can make divers colorful bar codes and qr codes to implement directly into your campaign, each is traceable for better understanding of the success of you marketing strategies.
To make your templates easily interpreted and fast we have included an inline css that convert each template to the right format.Working images as adding texts and patterns is also supported, thank to Aviary integration, basically, you do anything with it.
T-Mail can support multiple SMTP servers, capable of working in parallel and also jumping to the next available server as soon as your established limit is reached.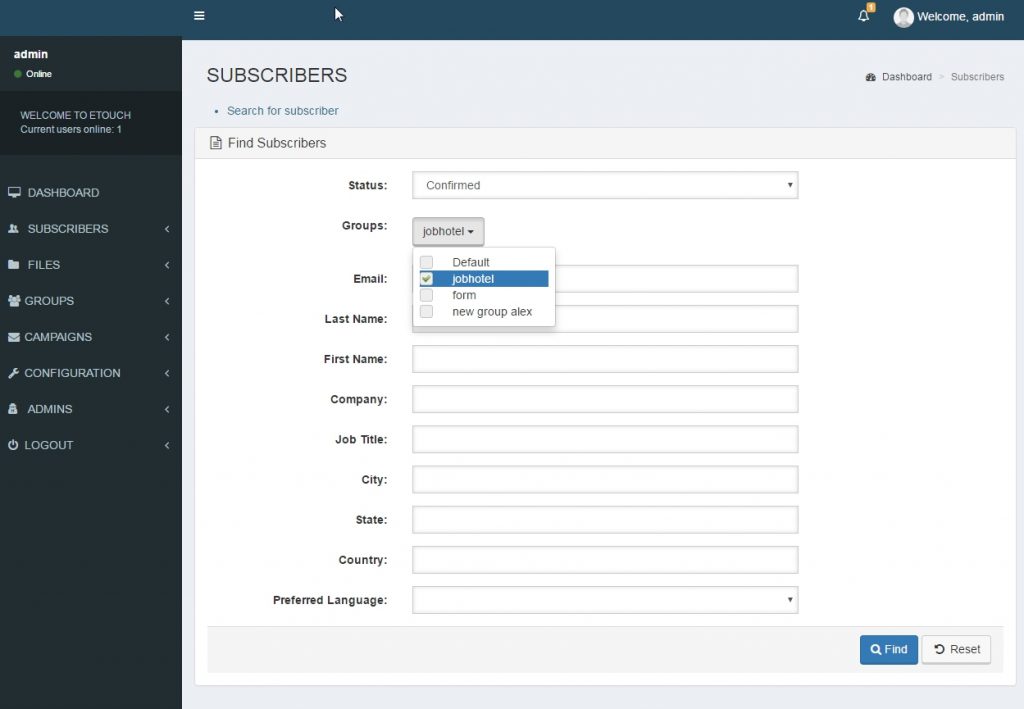 T-Mail consist of the following features:
– Multi-users / Languages (Urdu/English and can be easily support any other language). each user has his distinct account, only the master admin have access to users area.
– Unlimited Subscribers.
– Unlimited Groups (Deep List Segmentation).
– Unlimited Campaigns.
– Unlimited Smart SMTP Servers Relay: SMTP, PHP Mailer, Gmail (Auto Detect & Bounce Servers Limits).
– Bounce Mail Handler (PHP Library should be enabled).
– Parallel Delivery (In respect to each server limit).
– Address Validator & Finder.
– Export to Multiple formats: VCARD, CSV, EXCEL, PDF, & Most used Avery Labels.
– Ajax Subscribers CSV Load (for Copy Paste).
– Easy members import using CSV or Linkedin VCARD.
– Find Subscribers based On Language, Address, Status or Groups.
– Spammers Banning System.
– Smart Campaign Scheduler Calendar.
– Single & Double Optin.
– Customizable forms.
– Responsive Template.
– AutoResponder.
– Unsubscription.
– Internal Activity Log Table.
– Campaigns History, Export, and Duplication.
– Campaigns Activity Tracking, Bounce, Open, Unsubscribe, Sent, Unsent etc.
– Advanced Graphical Statistic Reporting.
– Groups Merge.
– Admins Activity Logs.
– Form script Integration (Installation).
– Files Management System.
– Adobe Aviary Image Editing.
– Native Captcha Spam System.
– Google Recaptcha.
– Cache Memory Limit Control for faster processing.
– Send Emails in Batches.
– Ckeditor/CkFinder with beautiful Plugins: Social Icons, Google Map, QRCode,Ipsum, Media Share Links).
– Custom Pre-Built Templates easy Insertion.
– CSS Inliner (Emogrifier) on Campaign Processing.
– Free Professional URL Shortner API Code, with QRCode, Barcode, (with color Schemer).
– Links Stats/Graph.
– Subscribers Imports Limit Control for faster processing.
– Campaign Web Version.
– Subscribers Tags (First Name, Last Name, Address, City, Zip Code, State, Country, IP Address, Web etc..). Many more.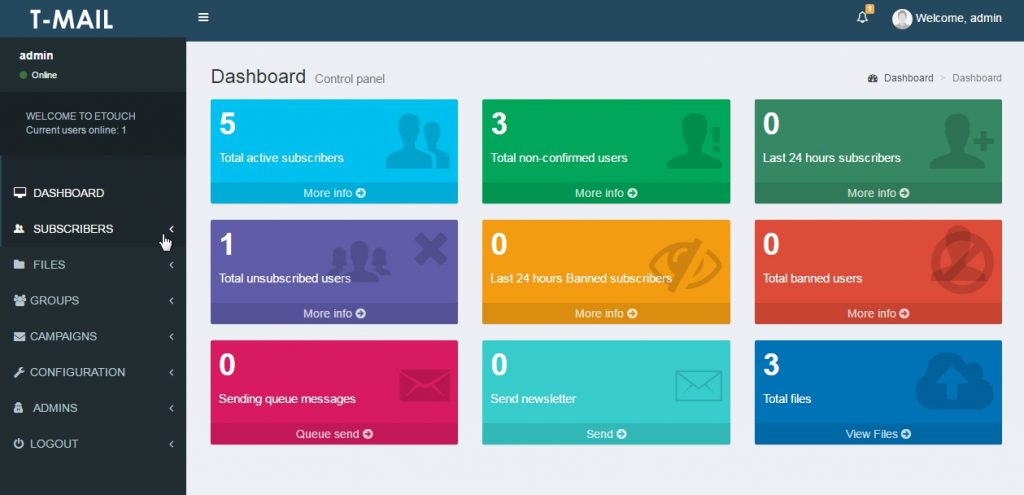 To Book a demo of T-Mail Email Marketing Software please contact Tier3 Secure Development Team.