Mobile Security Solution
We offer a complete turn-key Mobile security solution engineered for organizations performing critical functions. It secures communication and data at rest. It provides peace of mind, complete control over groups of devices, and self-hosted options.
This package includes a zero-attack-surface mobile device that offers total secrecy and security of all communications, smooth performance, and easy to use privacy-centered functionalities.
The device comes with an option of global OR Local Pakistani Mobile network data plan, runs on a custom operating system, and uses encrypted channels for incoming and outgoing communications. The hardware platform is ideal for consumer-grade secure communication devices or other niche mobile products. It offers smooth performance and a lot of versatility for the housing design.Powered by Secure OS
Octa-core processor
6.5+" LCD screen
4500mAh battery
Internal storage (128GB/256GB)
RAM (4GM/6GB)
Regional bands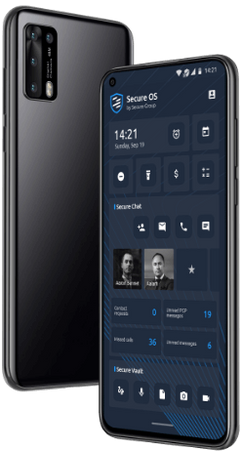 Secure OS
Security and privacy first mobile operating system
Secure OS is a custom operating system based on Android. It utilizes multiple defense layers to isolate, encrypt, and secure your data against any mobile threat. All easily exploitable entry points of modern mobile devices (Google services, GSM services, SMS, Bluetooth, NFC, GPS, etc.) have been closed off in Secure OS.
To guarantee the privacy and the security of your data, Secure OS comes preloaded with our proprietary Secure Communication Suite. The suite includes our state-of-the-art applications for end-to-end encrypted communications and secure file storage: Secure Chat, Secure Vault, and Secure Calendar. Communicate with your peers via military-grade secure communication channels. Every communication gets encrypted on your device, travels in an indecipherable form, and gets decrypted on the receiver's device.
All encryption keys are generated on the device and stored on a FIPS 140-2 certified cryptographic module. No private keys are ever shared or stored outside the device.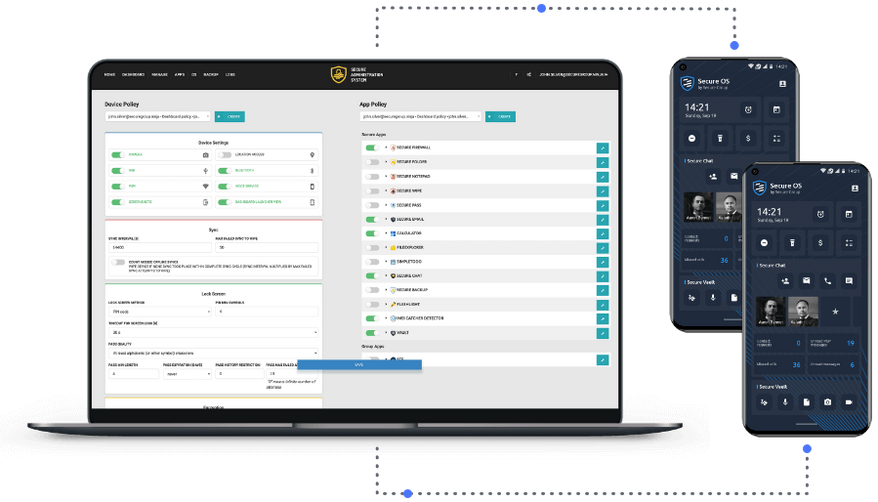 Secure Box
Enterprise-ready self-hosted secure communication solution
Secure Box is a self-hosted solution for end-to-end encrypted communications designed for organizations that want to take complete control of their sensitive data. The solution is fully integrated with latest IT ecosystem and allows you to deploy and manage a fleet of
secure devices running on Secure OS, and using Secure Chat and Secure Vault for data transfer and protection. Additionally, Secure Box gives you the freedom to choose whether you want to join our global decentralized network for secure communications or run your own closed network for maximum security.
Secure Box is designed around the concept of zero-knowledge, meaning that no sensitive information, confidential data, or private encryption keys are ever stored on the server. There is zero room for human error or internal data leakage. This secure solution includes following features for ease of use and management.

Secure Box is a pre-configured turnkey solution that allows you to quickly and easily deploy single or multiple servers. Best of all, if your internal team is busy or lacks the technical expertise to perform the installation, you can always rely on us as your integration partners to do it for you. Each Secure Box rackmount server has a capacity for up to 3000 users. However, the technology allows for limitless and rapid scalability. New servers can be easily deployed and added on demand.
Secure Box Management Module
Deploy, manage, and maintain all applications on your instance
Manage containers, images, networks, and volumes
At-a-glance view of what's running in your environment
Dashboards for critical performance metrics
Set up alert rules for your most important metrics
Search through system logs to identify issues
Send alerts to other systems such as Slack, PagerDuty, VictorOps
Monitoring and Analytics Module
Web-based MDM platform – Secure Administration System (SAS)
Organize fleets of devices in groups to apply mass actions
Push custom apps and control application settings
Enforce custom device policies and settings
Remotely wipe devices
Mobile Device Management (MDM)
Dedicated server for Extensive Messaging and Presence Protocol
(XMPP)
OTR & OMEMO encryption protocols
Real-time monitoring of server statistics and user activity without
access to sensitive data
Setup customization through additional plugins
Encrypted Chat Management
Dedicated SIP Server, SIP load balancer
SIP Firewall ensuring calls security
ZRTP encryption protocol
Monitor server performance
Encrypted VoIP Calls Management
PGP email server
PGP encryption protocol
Whitelist and blacklist communication with other email servers
Get in touch with us to find out more about these solutions and learn more about our mobile security solutions..