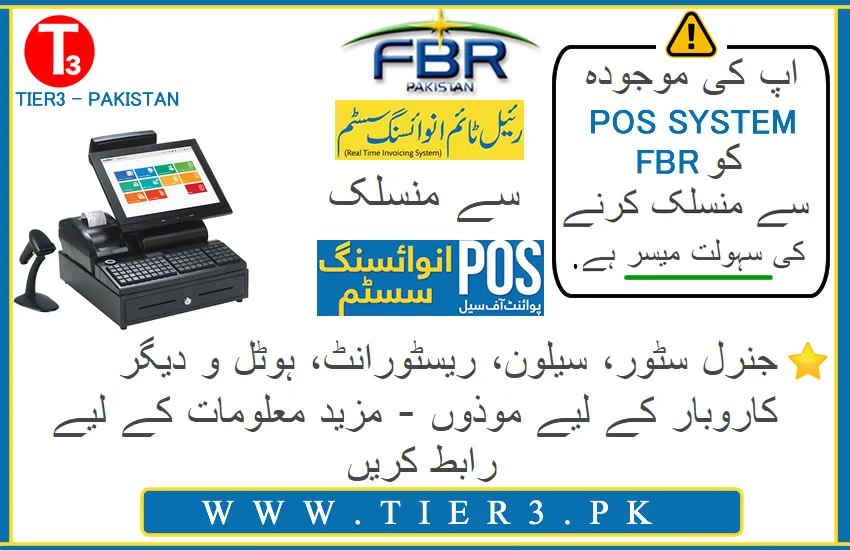 According to new Tax Laws all tier-1 retailers are required to integrate all their POSs with FBR's computerized system in Pakistan. It is also mandatory for all restaurants to integrate their POSs. These FBR Invoicing system Integrated POS systems used by these retailers should be able to handle sales, returns and exchanges.
FBR Invoicing system Integrated POS System software should make the necessary adjustment to sales revenue and the same is also reflected in sales reported to FBR. In case such returns and exchanges are not properly reflected, the retailer can make use of debit / credit notes and record the same in Annex-I of the monthly sales tax return.
FBR Integrated POS System
---
Barcode and Inventory Support
FBR Integrated POS System
Supports Barcodes and Inventory Modules
Suitable for Shops and Retail Stores
0 Rs Setup Fees
Easy Monthly Payments
Fbr Integrated Invoicing System
---
No Barcodes and Inventory Modules
FBR Integrated Invoicing System
No Support for Barcodes and Inventory Modules
Suitable for SMEs and Stores that do not use barcodes
0 Rs Setup Fees
Easy Monthly Payments
Upgrade Your Existing POS System – FBR Integration
---
Integrate your existing System it with FBR
Complete FBR Integration of Your current System
Integration of payment / sales / refunds and printing modules
Re design your receipt to Show QR Code and fiscal Invoice number
Cheapest Customization charges
Support for VB , Java, PHP , ASP , ORACLE and .Net Technologies

FBR POS Integration Software – POS System
* Suitable for Shops, Retailers and all those businesses that want to use barcoding and Stock inventory systems.
To facilitate these retailers in Pakistan with integration and installation of such POS systems Tier3 Cyber Security Services has launched its own FBR POS Integration Software – FBR POS. A specialised advance Inventory management and POS system developed specially for retailers in Pakistan keeping in focus the cyber security and integrity of data and processes involved.
A Web-based Point of Sale (POS) application that provides for managing stock and tracking sales. It can print receipts, quotes and invoices. This web based POS System is best suitable for retail store, saloons, restaurants, boutiques, hardware stores, cash and carrys and other misc retail fronts. This POS system does not require or has specific hardware limitations and can be easily operated using a standalone system or as cloud deployment. It supports multiple branches and incorporates discounts and product variations as required by today's businesses.
Price
Free Signup and Installation on your hardware. (* Hardware requirement of PC, Barcode Scanner and receipt printer)
Monthly recurring cost of 1500 Rs / Month
Pos Retailer Integrated with FBR.
FBR Integrated Invoicing System
* Suitable for business that do not want to use barcoding systems and advance Stock inventory.
Specially designed and developed Fbr Integrated Invoicing system for businesses that do not use Barcodes and Thermal Printers for receipt printing. There are no stock management and other advance accounting or warehousing modules involved in this system hence it provides a simple interface that can be easily customized specifically for your business needs. Simple 4 Step solution

1.Enter Invoice Information (Client details / Product & Services Details)
2.Mark Invoice as Paid.
3.Reconcile the Invoice with FBR Fiscal Module and generate FBR invoice Number.
4.Print Invoice/Receipt with FBR invoice number and corresponding QR Code. (System saves the final invoice and receipt for future records)

Ideally if you generate less than 300 invoices per week and use normal A4 size for printing receipts and invoices then this invoicing system is perfect solution for you. It does not need require any special hardware and can be used using on your existing printer and setup. Invoices are printed with FBR issued invoice numbers and corresponding QR code. Best suited for corporates and companies that do not need complete POS Systems as used in regular Shops, retail fronts and restaurants. Contact our sales team for more information.
Price
Free Signup and Installation on your hardware
Monthly recurring cost of 1000 Rs / month.
Pos Retailer Integrated with FBR
Upgrade Your Existing POS System – FBR Integration
*
Suitable for businesses that already have an invoicing or POS System in place and just want to integrate their current POS System with FBR Fiscal module.
One of the key advantages of FBR integration with the your POS system is that it will help Pakistani retailers upload sale invoices and credit notes automatically to the FBR servers, and this will reduce the expenditure cost of taxation services by automatic preparation of the STR for local Tier-1 retailers. Tier3 can integrate your existing POS or invoicing system with FBR. Our development team has already integrated retailers using ASP / PHP / .NET / JAVA and ORACLE based POS Systems in Pakistan. So if you had your software custom made or bought it from codecanyon or other online software vendor as long as you have access to source code of your POS System we can customize it to the standards as setup by FBR.

Your FBR POS System Integration will ensure basic three functionalities of reporting sales data to fbr, printing received fiscal invoice number on your sales receipt and updating database for future reporting . There is no need to waste your time looking for competent freelancers or pay hefty fees to codecanyon authors for modifications. We have it all covered for you. There is no downtime with our services and we guarantee you the lowest costs possible.
Important Note for

FOXPro Based POS Users

– Are you aware that Visual FoxPro is at end of life. VFP9 was the last release and the extended support period ended in 2015. Microsoft does not support FoxPro products any more and its standards apps can not run on windows 8,10 or latest versions without extra dlls.

Visual FoxPro is built on 32-bit architecture. New hardware and software bought today are all using a 64-bit architecture. This means that most of FOXPro Applications (POS Systems) will not work on latest windows or will stop working soon unless recompiled again using Visual FoxPro 9. To maintain industry certification compliance you may have to migrate your application. If not, you might be able to risk running on unsupported hardware and operating systems. Hence it is not cost effective for us as developers or retailers to integrate FOXPro based POS systems with FBR.
Tier3 recommends all FOXPro POS retailers to either convert or otherwise update your custom program to a new language or platform. Do you need help considering your options and coming up with a plan to meet your needs? We have been helping our clients with these issues, contact our technical sales team for help.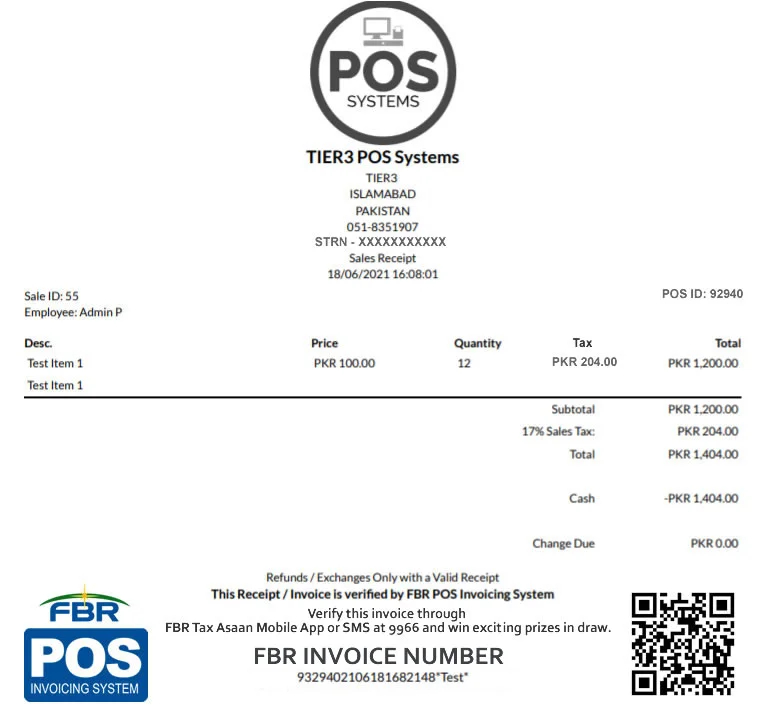 Tier3 as FBR POS Vendors and one of the Pos Retailer Integrated with FBR also offers its valuable business clients in Pakistan an easy FBR POS Integration Service for MSP service providers and software houses who wish to provide their clients with their own POS system but want to integrate it directly to FBR Fiscal Data controller (SDC). Our technical team can guide you about our custom developed POS integration FBR Apis. We have our own custom in-house developed WebSocket APIs and MVCs for most complex and distributed architectures.
Our technical team is always ready to help you. Feel free to contact us with your queries.