Whether you are new to cyber security or a seasoned cyber security practitioner and professional with a specialized focus, Tier3 cyber security training and cyber security course in Pakistan provide the essential information security skills and techniques you need to protect and secure your critical information and technology assets, whether on-premise or in the cloud. Be among the Top Hackers in Pakistan or the best bugbounty hunters.
Tier3 shows you how to directly apply the concept learned into a winning defensive or offensive strategy, all in the terms of the modern adversary.
Basic Cyber security course
Cybersecurity fundamentals
Basic concepts of Cyber Security.
Key cybersecurity practices
Identify various types of malicious software.
Threat actors attacks
bug bounty, OSINT
Identify key cybersecurity tools e.g firewall, anti-virus, cryptography, penetration testing and digital forensics.
Network security controls and Secure architecture
and More ...
Offensive Security Course
Learn from Best Hackers in Pakistan.
Setting up an environment , Red Team Exercises and Adversary Emulation
bugbounty
Nmap and NSE, ARP scan and network discovery,Google dorks & Shodan
Hacking Wi-Fi networks / WPA2 / ARP, HTTPS / DNS and DHCP
Hacking routers and VPN Networks, Lateral movement , Cloud & Network Penetration, windows systems & products, Exploiting Domains and AD
Hash Algorithm Attacks, IoT Hacking and Pivoting Attacks
and More ...
Cyber Defense Course
Blue Team Exercises and Adversary Emulation
Blue Team Fundamentals - Attack surface Analysis and Cyber threat intelligence, Active Cyber defense, defense in depth, access control & password management
Reverse Engineering Malware and Traffic analysis (Wireshark and tcpdump)
Web communication security, virtualization and cloud security, and endpoint security
Advanced cryptography (hashes, digital signature, encryption) and Full disk encryption (data protection at rest)
Anonymity and Privacy - Dark Web, Open-Source Intelligence (OSINT) Gathering and Analysis
Vulnerability Assessment Systems - OpenVAS
and More ...
This is how WE train; this is how YOU win !
We collaborate with a broad community of cyber security professionals and organizations, partnering with those who share our mission and commitment to creating a diverse, capable, and innovative cybersecurity industry in Pakistan.
Cyber Workforce Academy

An accelerated cyber security training program that provides job seekers with advanced technical training, industry-recognized cyber security certifications, and hands-on cyber defense and incident handling skills sought by local employers in Pakistan.We leverage our expertise and our cybersecurity training capabilities to deliver research, cyber toolkits, cyber ranges, and many other widely available learning opportunities for individuals and organisations.We will not teach you how to run an exploit in a vulnerable application, which will be fixed in a few days and will no longer work. Instead,we teach you principles of cybersecurity that will last for years, using a hands-on approach, but not neglecting theory, which is the basis of deep understanding.

RedTeam ToolKit

RedTeam Toolkit is an offensive security platform and tooling suite used and recommended by Tier3 Penetration testers. It optimizes the red team operations and penetration tests. This toolkit enables Penetration Testers to perform advanced network operations, collaborate on target exploitation, and better simulate sophisticated adversaries.Our RedTeam Toolkit drives stealthy cyber security operations through all phases of an attack, including reconnaissance, initial access, privilege escalation, persistence, and impact. It includes more than 500 regularly updated Tools and source code review tools. Each tool has a specific purpose to facilitate stealthy operations and adversary emulation. 
Cyber Security Course in Pakistan
The Tier3 cyber security Training scheme and cyber security courses provides a benchmark for cyber security training and education in Pakistan by assuring the quality of both content and its delivery.
The demand for cybersecurity talent is high and critical roles go unfilled each year due to a years-long talent shortage in Pakistan. If you are looking for a career that offers lots of opportunities for learning, rewarding work, and zero stagnation, consider cybersecurity.
This page features information about how Tier3 can help you to get into cybersecurity with little to no technical experience, information on the types of roles and courses we offer within cybersecurity, and resources to help you learn more about the exciting, in-demand field.
We add new content often so make sure to visit us regularly. If you have any questions about getting into cybersecurity, or want to find out more about cyber security course fees contact us or follow us on twitter to stay updated about our new courses , cyber security subjects and classes schedule.
Summary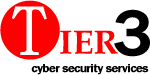 Author Rating





Brand Name
Product Name
Cyber Security Training and Courses Pakistan
Price
Product Availability