Digital forensic is a process of preservation, identification, extraction, and documentation of computer or mobile data digital evidence which can be used by the court of law. There are many tools that help you to make this process simple and easy. That said, retrieving that data securely, efficiently, and lawfully is not always a simple endeavor. As a result, investigators rely on new digital forensics tools to assist them. These digital forensic tools provide complete and detailed reports that can be used for legal procedures.
Digital forensics tools are hardware and software tools that can be used to aid in the recovery and preservation of digital evidence. Law enforcement can use these digital forensics tools to collect and preserve digital evidence to support or refute hypotheses before courts. The main types of digital forensics tools include disk/data capture tools, file viewing tools, network and database forensics tools, and specialized analysis tools for file, registry, web, Email and mobile device analysis.
Forensics Toolkit in Pakistan
Mobile Forensics toolkit helps in data acquisition – the process of gathering information from mobile devices and their associated media. This process reduces the chances of data loss due to damage or battery depletion during storage and transportation. Mobile device identification is necessary at the beginning of the forensic examination. The identification process includes understanding of the type of cell phone, its OS, and other essential characteristics to create a legal copy of the mobile device's content.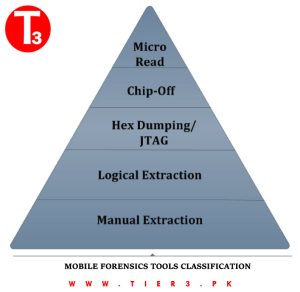 Tier3 Cyber Security Pakistan can provide top, latest and authentic forensic tools to our valuable customers in Pakistan. We provide digital forensic solutions to help make the Pakistan a safer place.
Whether it's accessing, analysing and acting on data from 1,000s of mobile devices be it burner, feature, or smartphones, or forensically securing and examining data from IoT devices, drones and over 2,000 apps, our experts can help you easily choose the best DFIR (Digital Forensics and Incident Response) solutions to extract data and run industry-leading analytics to build intelligence at speed.
Extend the reach and speed investigations to reduce forensic backlogs by giving investigators access to best automated cyber investigation and forensic tools which can be used on-scene to triage devices, and collect evidence from witness, victim, and suspect devices. With special portable forensic tool kits Law enforcement agencies and their field agents can get the intelligence they need to make immediate arrest decisions, seize devices, and start building court-ready reports to share with other investigators or with the forensic lab.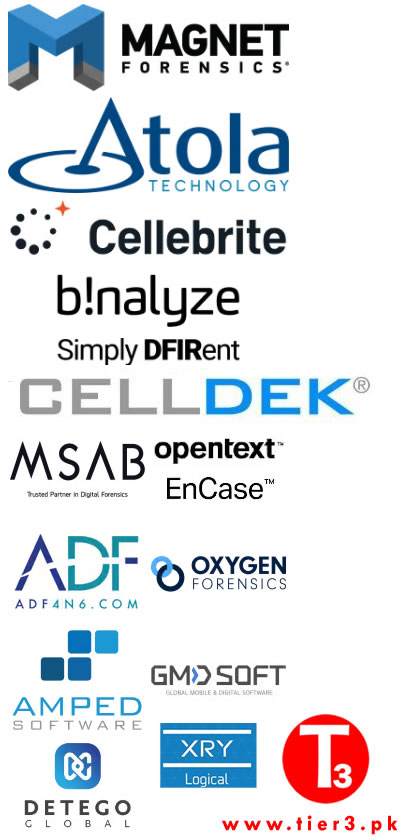 These scalable forensics solutions include and integrate all forensic acquisitions and leverages powerful AI and automation features to provide in-depth analysis, intelligence and court-ready reports. These solutions come complete with custom, fully-automated analytical workflows, Optical Character Recognition (OCR), Photo DNA matching, password decryption (on more than 300 file types), M5 & SHA1 hash matching and much more.
* Please note that certain forensics tools and softwares will only be provided after due diligence/security checks and verification.
Autopsy (For Disk analysis)
FTK imager (For Image Forensics)
The Sleuth Kit (For Memory Forensics)
Project-A-Phone
Fernico ZRT
EDEC Eclipse
XRY Logical
MobilEdit
Oxygen Forensic Suite
Lantern
Magnet Axiom
XACT
MD-NEXT by gmdsoft
Cellebrite UFED Physical Analyzer
ADF – Mobile Device Investigator®
ADF – Digital Evidence Investigator®
Pandora's Box
For more information about our forensics tools and DFIR products please contact our sales team.
Summary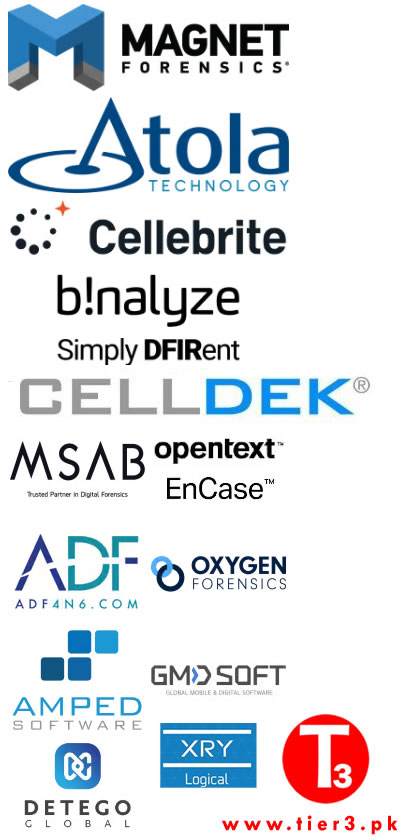 Author Rating





Brand Name
Tier3 Cyber Security Services Pakistan
Product Name
Forensics Tools in Pakistan
Price
Product Availability