UK Three mobile customers experience a new data breach
March 22, 2017
Surfsafe® Pakistan – Officials Launch A Portal For Reporting Online Extremist Content
March 26, 2017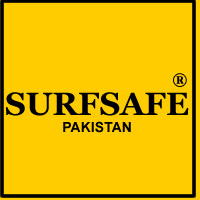 The controversy surrounding Google and YouTube advertising and extremist content has spread around the world. According to a report, some of YouTube's biggest advertising customers, including Verizon and AT&T, have halted spending on display and other non-search advertising on the platform.
The news comes days after a stream of UK companies pulled their ads from YouTube and Google's display ad network in response to a report from The Times that cited instances of UK government advertising running over extremist content.
Bloomberg reports AT&T and Verizon Communications Inc. have stopped all non-search advertising spending with Google, while Johnson & Johnson stopped all its global advertising on YouTube. AT&T said in a statement that it is concerned that its advertising may have appeared over "YouTube content promoting terrorism and hate," and it will not resume advertising "until Google can ensure this won't happen again." Verizon has launched an investigation, presumably to find out if any of its ads appeared over extremist content.
The original report from The Times cited specific instances in which UK taxpayer-funded advertising ran over hateful, offensive videos, including those by American white nationalist David Duke. That revelation sparked many companies in the UK to remove their ads from Google platforms, forcing Google to examine its ad policies and implement new tools to give advertisers more control over where their ads go. However, there have been no other reports detailing instances in which ads from the companies named above ran over offensive content on YouTube or Google's Display Network.
Google stands to lose millions of dollars in advertising revenue thanks to those companies backing out. While search advertising brings in the most ad revenue for Google, companies often spread out their advertising dollars to other Google ad platforms. According to Bloomberg, AT&T funnels a lot of money into Google's video and display ad network: Kantar Media estimates AT&T spent $941.96 million in 2016 on advertising alone.
It was only a matter of time before the issue of ads appearing next to offensive content spread from the UK to the US. Google officially responded after The Times report came out and provided more details after many other UK companies pulled their ads.It appears these new tools and efforts will make it easier for advertisers to choose the types of content they want their ads to appear on, but it's unclear if they'll truly police YouTube content more effectively than before.
In Pakistan a much needed initiative to report online-extremist content has been launched as Surfsafe® Pakistan. People can report extremist content and hate speech anonymously on this web portal.