In response to the recent viral outbreak in Pakistan, many organizations are asking their employees to work remotely. This, though, brings new challenges to the workplace as workers and companies in Pakistan are adapting to the video meetings, screen sharing, and the use of remote working tools.
Remote Working & Telecommuting Tools
Remote Access Tools
Are you looking for an affordable, fast and secure remote access software that gets the job done?
Tier3 offers its valuable customers in Pakistan the world renowned VNC Connect , affordable and easy-to-use remote access software. VNC® Connect is screen sharing software that lets you connect to a remote computer anywhere in the world, watch its screen in real-time, and take control as though sitting in front of it. VNC® Connect is for everyone in your organization. Remote access enables colleagues, suppliers and customers to communicate more effectively, breaking down barriers and driving growth.
Communication Tools
Communicating well is absolutely paramount when everyone's in different places. We use Slack for all internal comms at Hunted. In fact, I'd stop centimetres short of saying it's business-critical to us.
A Searchable Log of All Conversation and Knowledge.
If you don't use it, read Why Every Recruiter Should Have Slack and see whether you should.
Essentially it's Whatsapp for business. It takes the rigmarole out of organising a meeting over Outlook, and replaces the 'popping over to the desk' part of your job with a quick IM when you're working remotely.
And it comes with a whole suite of apps in the Slack app store to hack your work chat even further.
Katella – an "intelligent virtual assistant for your team" which sends your day plan first thing, finds out whether colleagues are available or not, and keeps on top of your To-Do List.
Yala – social media AI that helps you create 7 second videos, and schedules them to post on your social channels when your individual audiences are most active.
Calendar for Gmail and Outlook – manage your calendars from a chat window, sync your status, see your schedule, and respond to invitations.
Zoom – start, join, or record a video meeting within Slack, you can even screenshare to stay connected with your team.
Polly – gauge the opinions of team mates quickly without the need for protracted discussion, simply knock up a quick survey, send it, and see the results in real time.
Zapier – automate repetitive tasks with simple lines of command (like every time you receive an email attachment, convert it to a PDF without touching a button) to trim a bit of time off your remote working day.
Giphy – I told you it was WhatsApp for business, this program brings your slack messages to life by giving you access to Giphy's massive library of animated images.

Emails Softwares
Whether you're on Slack or not, I'd imagine you've got Outlook going in either a spare tab or a separate window. And if you spend a lot of time in your inbox, but haven't yet used any apps and programs to optimise that Telecommuting experience, these are for you.
Spark – a free app that prioritises your emails and only notifies you of the important or urgent stuff, in order to keep your inbox a bit quieter and reduce the amount you're distracted.
Yesware – with both Gmail and Outlook integrations, this tool tracks email open and reply rates, link clicks, attachment opens and presentation pageviews.
Dropbox – if you need to share a file with a colleague, don't bother emailing an attachment, sling your files in here and they're readily available and easy to find when you need them.


Meetings Softwares
Just because you aren't in the same building together doesn't mean any interaction with the team needs to be compromised.
WFH's a great way to identify meetings which really could've been an email, and which are truly vital. For those, there's plenty of resource available to you to keep communication flowing.
Accompany – recently acquired by Cisco, Accompany provides in-depth information on a company in an instant, saving you research and prep time ahead of a meeting.
GoToMeeting – a simple and effective way to host virtual meetings, set up a meeting room, email attendees a link, and make sure you look smart from the waist up.
Houseparty – a group video chat platform, the app notifies you when friends and colleagues are online and jump into a virtual face to face hangout.
Phone Call Translator– naturally there's a fee for this app, but it'll let you call anyone worldwide, in 30 popular languages, to any device.
Meeting Owl – over 20,000 companies use this product and it's easy to see why, a 360 degree camera makes your meetings a hoot and lets you reconnect with everyone in the room at once.
Muzzle – silences embarrassing notifications when you're sharing your screen, so the WhatsApp message from your other half doesn't pop up for your all to see.

Remote Office Tools
Mod cons from the office without having to step foot inside it. Great.
Workfrom – if you need to get out of the house but aren't sure where to get set up, this is a crowdsourced platform to help you discover the best places to work remotely in your city.
Microsoft To-Do – smart daily planning you can access anywhere, from the people who made all the other apps you use; integrates with them rather nicely, as you'd expect.
Google Drive – Or if you'd rather take advantage of a whole suite of products that do basically the same thing albeit with less functionality and more focus on user experience, el Goog have their own versions of Word, Excel, and PowerPoint, all free and accessible from your browser.
Beamery – a CRM for recruiters who spend time on their marketing activities, the platform has a big focus on candidate experience, using AI to evaluate performance, build your brand, convert passive leads and improve conversion rates, among many other features.
Hinterview – to record and share video interviews, engage with top candidates and introduce yourself to prospective clients without the need for endless calls and emails. Check them out on Hunted.
Odro – a video interview and messaging platform which increases the chances of reply ten fold, engages more talent, and helps you win more business. They're on Hunted too! Take a look.
Wurkr – work together from anywhere. A video platform that replicates your physical office – online. There's screen-sharing, messaging, always-on features, the ability for external guests and visibility over the whole virtual office.
Yubikey – MFA / 2FA Devices for Secure remote logins.


Productivity
It's one of the reasons companies give when asked why they haven't rolled out remote working across the board already, but when people aren't in the office, how do you make sure they're still productive? With these tools, that's how.
15Five – named after the 15 minutes it takes to complete a report and the five minutes it takes to read it, this gives either you or your team a macro analysis of performance each week.
Todoist – replacing your paper notebook is this smart to do list, which processes natural language to understand what priority your tasks are and when they're due.
Any.do – different programs work for different people, so while this is another digital to do list, you can access it from anywhere, including a smart speaker, and it comes with a really clean, simple interface.
Asana – a project management tool to help you stay on top of priority tasks, the Chrome extension allows you to create a workflow from any web page and share it with team mates instantly.
Timpler – another powerful, simple task manager, this one helps collect your thoughts throughout the day, organise tasks and schedule work for the future.
OKRs App – OKRs are the new KPIs, in that it's a name for you to call 'targets and performance tracking', this app promises to make hitting them more likely by helping you stay on top of them.
Droptask – a project management tool that works by dragging and (as the name would suggest) dropping tasks into your workflow, it's a user-friendly way of seeing all the moving parts of your business in one place.
Effortless – a nice Mac app which will focus your mind, simply set your goal, set a time limit, and go for it.
Slash– a productivity app that forces you to do one thing at a time, useful if you're in the middle of something like a meaty search, get interrupted by a phone call, and usually struggle to get back to what you were doing, this app'll sort you out.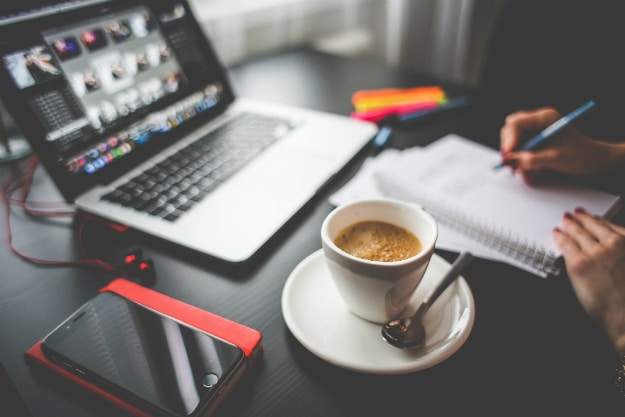 Remote Admin Tools
Oh you thought working from home meant less of this? Think again, my phone bashing friend.
Admin's only boring because you have to do it. But at least these tools will make it less of a hassle while you're working from home.
Genius Scan – an app to scan documents and convert them to PDFs on the go, good for expensing receipts, or converting CVs and cover sheets.
DashMetrics – provides a live metrics dashboard for your personal brand, helping you build your social presence and understand where to win online.
Plume – a multi-room wifi tool so you don't lose connection moving round your house, it tracks your movement and reprioritises bandwidth to keep you connected, even if you're say, in the living room, and all your housemates are streaming something on Netflix.
Time – an app to both see and show how you spend your time, it tracks your productivity but also doubles as a reporting tool, so you can prove how hard you're working away from the office.
Toggl – mostly used by creative types, developers, and freelancers to account for their time, all you do is start the timer and it automatically fills out a timesheet for you.


Remote Content Management Tools
If you aren't in the office, your ability to reach people just got all the more important. And more difficult.
Words are a great way to do that. And when the physical world's compromised, it makes sense to establish yourself in the digital one. So here's how.
Morning Reader – a website and app delivering top tech and blockchain news round the clock, useful for staying in the loop generally and for sourcing articles to share with your network.
Writefull – designed to augment research writing, Writefull compares and analyses anything you've written, lets you hear it being pronounced, and even translates text into English.
Otter.ai – I personally use this all the time, it's a free program that automatically transcribes speech, which is ordinarily good for capturing meetings, but use it to record all those conversations you have with yourself and you could find you have a piece of original content, ready to share, that's already been (mostly) written for you.
Enlight Quickshot – a photoshop alternative for mobile, it's simpler to use than the desktop version, and means you can crank out quality vids without spending hours on them.
Insense Stories Video Editor– a free web-based tool that lets you upload video, trim it to fit Instagram, Facebook, or Snapchat stories, and then send to your social media pages.
Trace, by Sticker Mule – instantly remove the background on any image, for free.
The Recruitment Rollercoaster Podcast– a podcast brimming with ideas for your branding, and great to pop on over a well earned lunch break so you don't get too cabin feverish.
Hemingway Editor – for those moments you can't ask the marketing person to proof read something you've written, this website will tell you how to make your copy better.
Osmo Mobile – stop making shaky videos, get yourself a gimble and stabilise that camera for higher quality shoots. This one's £150 but there are plenty of alternatives too.


Remote Workers Wellbeing
Working from home has plenty of challenges. Most of which are logistical. Although hopefully you'll have negotiated some of them with a handy tech product or two.
We always say the number one tool you need to look after is yourself. And when you work remotely, it's also the number one tool you let slide.
It can be lonely, frustrating, and frankly depressing doing your job at your house. But it shouldn't be and doesn't need to. And these programs have all been designed with your wellbeing in mind.
Headspace – one of the first mainstream meditation apps to hit the market, and one of the most enduringly successful, with routines you can do anytime, anywhere.
Calm – Headspace's slightly more expensive cousin, with this app you can have celebrities read you stories to help you sleep, or take advantage of over 100 guided meditations, from Never Meditated In My Life level exercises, right the way up to more advanced stuff.
Sanvello – based on Cognitive Behavioural Therapy (CBT) this app tracks your mood, and helps you reframe the way you think about things and alter your behaviour accordingly.
Sleep Cycle – put your phone on your bedside table before bed and this app detects motion in the room during the night, which it uses to determine when you're enjoying a lighter sleep cycle, waking you up at the most pleasant time.
Remote Working – Collaboration Tools
Providers of collaboration tools and other things in this space are welcome to add their offerings here and it would be even better if there were free tiers / trials available for evaluation etc .You can also look at new and updated collection of Video Conferencing Solutions available in Pakistan.

Known providers with free tiers
https://zoom.us/docs/ent/school-verification.html?zcid=1231&_ga=2.228851412.995105639.1583699918-735451631.1546545079 currently for K12 schools in Japan, Italy, USA
(Choose "Basic" plan for Free version). Option to join live training session here: www.prezi.com/training

Tip: Remember some free tools might not have robust privacy policies etc, if you are sharing confidential information it is always best to do so with a trusted provider and a well-formed set of terms and conditions. In particular, do not share passwords, and the like on these tools.
Remote Working – Identify essential tools / software / data
An organisation of around 100 employees may typically use between 100-200 applications.
It's important to understand which of these is essential to your employees workflow and business continuity – rate them in terms of essential, desirable, not needed. Then test each of these from a remote location to ensure you're able to correctly use them. Consider where the data is stored within these applications – even though the application runs, can your data be reached?
By identifying applications essential to your business you can prioritise your focus on these to ensure they operate correctly, at speed and reliably.
Ensure your staff understands the difference between saving data on their remote device and on your network or cloud server. Data that is mistakenly saved on the device may be lost, cannot be collaborated on or fall out of continuity if others edit the same file and overwrite changes.
If you control access to your network through a single VPN/RAS point this is likely to be a bottleneck. Managing the use of this (audio rather than video for example) may become essential depending on your capacity.
List of links for businesses to construct homeworking capability
Distributed / Remote Working
Edge Ryders' guide to Distributed Collaboration: https://edgeryders.eu/t/distributed-collaboration-manual/11263
Producthunt Library of Remote Work Apps: https://www.producthunt.com/e/remote-apps
Activities to do with kids while parents work remotely: https://docs.google.com/spreadsheets/d/1KCFnWreu4v7VoO3NbgP-Qcq2LyE1FvliYSoiTLRY7Qg/edit?usp=sharing
Facilitators for Coronavirus response: https://groups.io/g/f4c-response/message/1
Online Meeting/Gathering Resources
Remote guiding – give technical support/instructions: https://xmreality.com/business/
Simple creation of how to guides. Easier and more cost-effective and powerful than creating a word file or a youtube video. Instant translation makes it easy for anyone to read the resulting instructions: https://manual.to/
Open Data Institute Remote Working Resources: https://theodi.org/projects-services/
CAST/Catalyst guide to remote working for charities/nonprofits: https://www.civilsociety.co.uk/voices/how-to-work-remotely-in-a-time-of-coronavirus.html

Deeson Handbook: Small digital agency openly publishes all of their work policies, including this useful guideline to running remote meetings professionally https://handbook.deeson.co.uk/working-at-deeson/remote-meetings/

How to work from home
How to work from home: www.theverge.com/2020/3/11/21171349/remote-work-how-to-home-coronavirus-quarantine-productivity-tips
Top Tips for Remote Working and Telecommuting
Best practices and tips to help you stay sane, focused and boost your productivity while working from home, a coffee shop or really anywhere in the world, because distributed teams are a reality and remote work is the future: http://www.benedikt-lehnert.de/contact
Tools & Guides for Event Alternatives
Open Source Guide to Running Conferences Online: https://www.taxjustice.net/2020/03/05/lessons-learned-from-organising-our-first-virtual-conference/ In the Ether is an approach to fully remote meet-ups, meetings, conferences and events. It is a remote first approach to bring like minded people together from across the globe, to discuss, share and learn about topics they care about: https://intheether.xyz/
Live video Q&As, interviews, summits, webinars and more: https://www.crowdcast.io/
Links:
Tier3 helps its clients and customers in Pakistan – plan and enforce a cyber secure remote work policy or telecommuting, whatever your needs may be. We help you Transform your office work into a remote work setup and maintain the same productivity and effectiveness.