Iran- based Cyber Hackers group TEMP.Zagros targets Asia and Middle East regions
March 20, 2018
UK launched cyber-attack on Daesh : criticizes Russia for unacceptable cyber-behaviour
April 12, 2018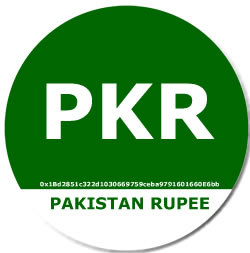 e Defining the Ruppiya
Name : ERC20-TOKEN Pakistan Rupee (PKR)
contract Address : 0x1Bd2851c322d1030669759ceba9791601660E6bb
Total Supply : 19,470,000,000,000 PKR
Decimal : 2
White Paper : PKR TOKEN PAYMENT NETWORK — WHITE PAPER V1.1
Scribd link : https://www.scribd.com/document/374856595/Pkr-Token-Platform-Whitepaper-v1-1
Direct File link : https://www.btcpk.net/PKR-whitepaper.pdf
Value : 1 PKR (ERC20 Token) = 1 PKR (Pakistan Rupee)
Tier3 Cyber Security, is partnering with BTCPK, trading and information hub for blockchain projects, to launch Pakistan Rupee (PKR) ERC20 tokens on the Ethereum blockchain. Tokenized Pakistani Rupee can now be exchanged on Ethereum Blockchain for the first time.
PKR ERC20 TOKEN project was started back in 2017 to offer an early option for tokenizing traditional currencies, a move allowing users to transact with fiat currency of Pakistan i.e Pakistan Rupee (Rs) across the exchange but without the volatility common to digital currencies.
"Following the success of widely used Tether US Dollar tokenization on the Bitcoin blockchain, this PKR version of ours enables interoperability with Ethereum-based protocols and DApps," PKR co-founder Suhail Tirmizi said. "We believe this new development will reduce the current interbank delays often involved in exchange withdrawal and allow our users access to tokenized PKR – a first for the industry."
"The number of tokens and assets being tokenized on top of the Ethereum platform is growing rapidly, with many proving disruptive to traditional business models," PKR project lead said. "By enabling all ERC20 compatible applications and protocols to integrate tokenized PKR, we expect to see enhanced efficiency and further stability on the Ethereum network."
PKR users deposit Pakistani Rupees which are converted into a one-to-one backed digital currency called PKR. Each token has a name and symbol of the underlying represented asset. It is tradable and transferable as a standard ERC20 token.
WebPaisa is integrating with Pakistan Rupee Token as a compatible application and to provide wallet services. It will be a smart contract-powered debit card and Ethereum gateway. Once the wallet and debit card is launched BTCPK will accept the Pakistan Rupee (PKR) ERC20, so users can use tokenized fiat currencies for normal transactions.
"The launch of PKR fiat tokens on the Ethereum network is a huge step towards mass consumer adoption, this blurs the boundaries of what is considered a blockchain asset versus a 'regular' asset and will enable people to own the fiat currencies most familiar to them but in a tradeable digital form. This will make it much easier for the majority to use Ethereum powered platforms . The option of choosing PKR over traditional banks becomes even easier if a national currency can be held in token form. The strength and versatility of the Ethereum blockchain enables a safe and secure means of transferring funds anywhere in Pakistan without needing to use a bank of any kind.
To ensure compliance with KYC and AML Policies involved tokens will only be issued or cashed from wallets signed by national ID Cards of wallet holder. Only Pakistani nationals will be eligible for any Air Drop and bounty programs. PKR can be used inside Pakistan to enable and empower B2C and B2B business transactions.
press release – 20th March 2018
Register for AIRDROP (Proof Of Concept – to Join Test Net only) – (Only register if you are Pakistani National)
https://goo.gl/forms/wGEXz8TQwvvkPgPg2
Update 2019 :
SBP has proposed a bill to the legislature, laying the foundation for a  central bank digital currency -CBDC. The central bank aims to introduce a digital version of its currency to mitigate the growth of digital currencies and the potential threat of dollarization in its economy.
Update 2023 :
The Trend of CBDC Development in Pakistan 
The State Bank of Pakistan (SBP) has expressed its interest in launching a central bank digital currency (CBDC) experiment, adopting a cautious approach to its development. SBP Governor Jameel Ahmad stated that the bank aims to accelerate CBDC development in the coming months to keep pace with global innovation. There are hints that a CBDC could be made available for public use by the end of 2025.
Pakistan's decision to venture into CBDC experiments aligns with numerous other countries exploring this field. Research indicates that over 100 countries have initiated CBDC studies, with 24 of them planning to launch their offerings before the end of the decade.
While developing nations lead in CBDC research, experts suggest that Russia and China remain at the forefront and could potentially release their CBDCs as early as 2024. Developing countries are motivated by the desire to improve financial inclusion and bridge the economic gap between themselves and developed economies.
#ethereum #erc20 #token #pkr #pakistanrupee #pakistan #statrtup#fiatvalue #bitcoin #tier3 #btcpk