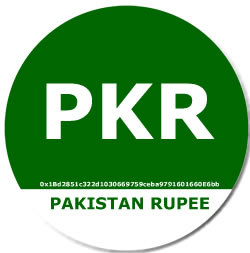 e Defining the Ruppiya
Name : ERC20-TOKEN Pakistan Rupee (PKR)
contract Address : 0x1Bd2851c322d1030669759ceba9791601660E6bb
Total Supply : 19,470,000,000,000 PKR
Decimal : 2
Value : 1 PKR (ERC20 Token) = 1 PKR (Pakistan Rupee)
Tier3 Cyber Security, is partnering with BTCPK, trading and information hub for blockchain projects, to launch PakistanRupee (PKR) ERC20 tokens on the Ethereum blockchain. Tokenized Pakistani Rupee can now be exchanged on Ethereum Blockchain for the first time.
PKR ERC20 TOKEN project was started back in 2017 to offer an early option for tokenizing traditional currencies, a move allowing users to transact with fiat currency of Pakistan i.e Pakistan Rupee (Rs) across the exchange but without the volatility common to digital currencies.
"Following the success of widely used Tether US Dollar tokenization on the Bitcoin blockchain, this PKR version of ours enables interoperability with Ethereum-based protocols and DApps," PKR co-founder Suhail Tirmizi said. "We believe this new development will reduce the current interbank delays often involved in exchange withdrawal and allow our users access to tokenized PKR – a first for the industry."
"The number of tokens and assets being tokenized on top of the Ethereum platform is growing rapidly, with many proving disruptive to traditional business models," PKR project lead said. "By enabling all ERC20 compatible applications and protocols to integrate tokenized PKR, we expect to see enhanced efficiency and further stability on the Ethereum network."
PKR users deposit Pakistani Rupees which are converted into a one-to-one backed digital currency called PKR. Each token has a name and symbol of the underlying represented asset. It is tradable and transferable as a standard ERC20 token.
WebPaisa is integrating with Pakistan Rupee Token as a compatible application and to provide wallet services. It will be a smart contract-powered debit card and Ethereum gateway. Once the wallet and debit card is launched BTCPK will accept the PakistanRupee (PKR) ERC20, so users can use tokenized fiat currencies for normal transactions.
"The launch of PKR fiat tokens on the Ethereum network is a huge step towards mass consumer adoption, this blurs the boundaries of what is considered a blockchain asset versus a 'regular' asset and will enable people to own the fiat currencies most familiar to them but in a tradeable digital form. This will make it much easier for the majority to use Ethereum powered platforms . The option of choosing PKR over traditional banks becomes even easier if a national currency can be held in token form. The strength and versatility of the Ethereum blockchain enables a safe and secure means of transferring funds anywhere in Pakistan without needing to use a bank of any kind.
To ensure compliance with KYC and AML Policies involved tokens will only be issued or cashed from wallets signed by national ID Cards of wallet holder. Only Pakistani nationals will be eligible for any Air Drop and bounty programs. PKR can be used inside Pakistan to enable and empower B2C and B2B business transactions.
press release – 20th March 2018
Register for AIRDROP – (Only register if you are Pakistani National)
https://goo.gl/forms/wGEXz8TQwvvkPgPg2
#ethereum #erc20 #token #pkr #pakistanrupee #pakistan #statrtup#fiatvalue #bitcoin #tier3 #btcpk