Mobile Loans Apps Fraud, Scams and Blackmail In Pakistan
Recently, a trend has been started in Pakistan involving micro loan apps. Apparently, these apps provide trivial or micro-loans (1,000 – 50,000) PKR to Pakistani customers in a pretty convenient manner and the process is pretty simple. In return, these mobile lending apps charge very high interests and set a specific deadline for the return of the loans. These Loan Apps offer quick loans without much verification and documentation, making the process of acquiring a loan sound quite simple.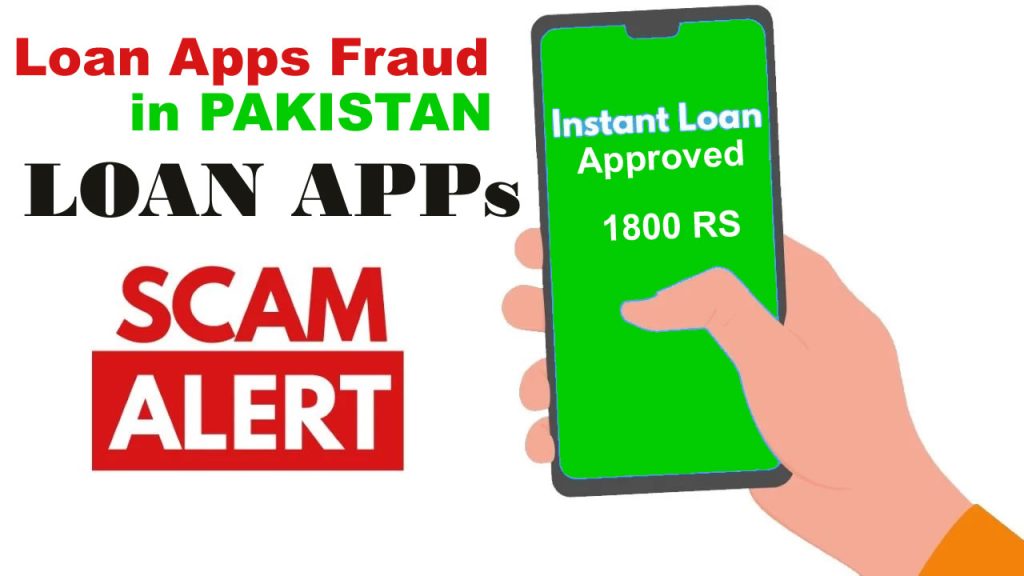 As per recent SECP investigation most of these apps lure people by offering loans of up to Rs50,000 for 90 days, and give them loans of Rs2,000 to Rs3,000 for a week, charging up to 200 per cent interest and service fees. According to the SECP, the FIA is working on the matter and is actively tracing Pakistanis operating these illegal apps by looking for their offices, phone numbers and email addresses being used for these crimes.
Through these fraudulent loan apps, fraudsters target the low-income groups or the not-so-savvy financial people, wherein a smaller amount of money is lent. The modus operandi usually involves deduction of processing fees from the loan, combined with penalties, and at significantly higher interest rates in cases of delay in payments.
These loan rackets primarily operate via phone apps easily downloaded on the Google Play store. Offering easy loans with no paperwork, as low as a few thousand rupees, the loan app hacks the user's phone, steals all data and contacts, and begins a tormenting cycle as the representatives of the loan apps employ high-handed collection strategies.
These micro loan mobile apps impersonate trusted brands, banks or other financial companies and compromise mobile devices with malware designed to steal confidential data which includes contacts, pictures, sms and social media details etc . By replicating the appearance and functionality of legitimate financial apps, they trick unsuspecting users into installing and interacting with malicious content. This can result in fraud losses, mistrust, and financial and social damage for consumers from fraud, extortion, and blackmailing.
Efforts To Curb Fraudulent Predatory Lending Apps
Tier3 protects our valuable customers in Pakistan and brand value by detecting, analyzing, and relentlessly pursuing the takedown of fraudulent mobile loan apps undermining general public and novice users in Pakistan. The Pakistani government has asked Google to check the presence of predatory lending apps on its platforms. Google Play Store is one of the most popular destinations for downloading apps for mobiles. While Google has taken down several illegal apps, it must strengthen its regulatory policies.
While many of these fraudulent predatory loan apps that operate with shady practices have already been banned, many smaller and lesser-known apps have cropped up to take their place. They use bulk SMS, digital advertisement, chat messengers, and mobile app stores on a massive scale.
What to do if you have a fraudulent mobile loan app on your phone
If you found out you are scammed or blackmailed by loan app company, follow these steps immediately:
Delete the app to stop it from causing more damage to your phone.
Restart your phone. If you want to be safer, factory-reset your phone, as this can remove any malicious program on your device.
Run a mobile antivirus app.
Report the fake app (to your app store).
Stop contacting the loan app people and report the matter with all the evidence to FIA Cyber crime.
If they are trying to blackmail you or contact your family members and friends – be open and honest about this matter and tell your family that unsuspectingly you have got your self involved into a loan app fraud scheme and they should also avoid/ignore/block calls and sms from that company.
If you are threatened by any legal litigation by the lending company do not worry and tell them to proceed. Remember State Bank of Pakistan and consumer banking courts have very clear policy about micro lending and 99% of time they are just fake threats to extort more money from victims.
How to report Fraudulent Loan apps
If you identify a scam loan app or are blackmailed by lending app company, report it to the app store carrying it and spare no details in your review to help others stay clear of these fraudulent apps.
On iOS, you can report an app by visiting www.reportaproblem.apple.com, signing in with your Apple ID logins, then reporting the item or app in question.
For Android, you can do it in one of two ways:
On Google Play Store, first search for the app's listing > tap on the three-dot ⋮ menu in the top-right section > tap "Flag As Inappropriate" > select the category for "Harmful to Device or Data" > click Submit.
On the Google Play Store Website, search for the Report Inappropriate Apps form and fill in the relevant details.
You can also make official cyber crime report about the app and lending company and report the matter with evidence to FIA Cyber crime.
We have researched and collected data from a number of sources and found out that the majority of these loan apps are fraudulent and most of them are spying on the users and collecting their personal data. This personal data is used later by these fraudulent loan app operators to blackmail consumers into paying high interests or service fees. There have been reported cases where customers have paid more than 50,000 Rs for a loan of only 15,00 Rs and still they or their relatives are getting threatening and abusive calls from these fake companies.
As of early June 28, there were over 27 instant lending platforms featuring on Google Play's Finance Category in Pakistan, including four in the top 10. That points towards the growing popularity of these loan apps, where players are fighting for users and downloads.

There is a case against 14 illegal apps to the Federal Investigation Agency (FIA) for taking legal action and also decided to amend the rules for licenced companies to digitally provide loans to the public. The companies under investigation include Flexi Money, Hazir Loan, Credist, Fori Money, Fast Cash, Mr Loan, V Cash and Mera Rupee. Most of them are foreign companies with frontmen in Pakistan. They have fake addresses and use the SECP's name illegally. They also use different VPNs to communicate with people while concealing their location.
Barwaqt, a Pakistani finance app infamous for stealing user data and exploiting customers has finally been removed from the Google Play Store. It seems that numerous reports from the app's unfortunate victims have finally been noticed.
If you are victim of fraud or blackmail by such mobile loan apps you can directly report a cyber crime in Pakistan.
List of Scam and Fraudulent Loan Apps in Pakistan
Ai Cash Loan app
Barwaqt Loan App
PK Loan App
Easy Loan App
Sarmaya Loan App
Fori Money Credit Loan App
Duck Loan App
Didi Loans App
Barra Loans App
Rockcash Loan app
Swift Loan App
Loan Club App
Candy Loan App
Zeta Loan App
Udhar Paisa Loan App
Sweet Cash Loan App
Contact Us to report a loan app to us that has defrauded and scammed you so that we can add them to our list which will help other consumers in making better decisions.